Introduction
Whilst maintaining superior quality agricultural land (grades 1 and 2) for food production is essential in the UK, planting mixed-broadleaf trees on low quality or less productive areas of arable land can provide significant carbon benefit. Carbon sequestration can go beyond simple sequestration in aboveground biomass. This briefing sets out to fully assess the carbon implications of converting just one hectare of degraded arable land into woodland.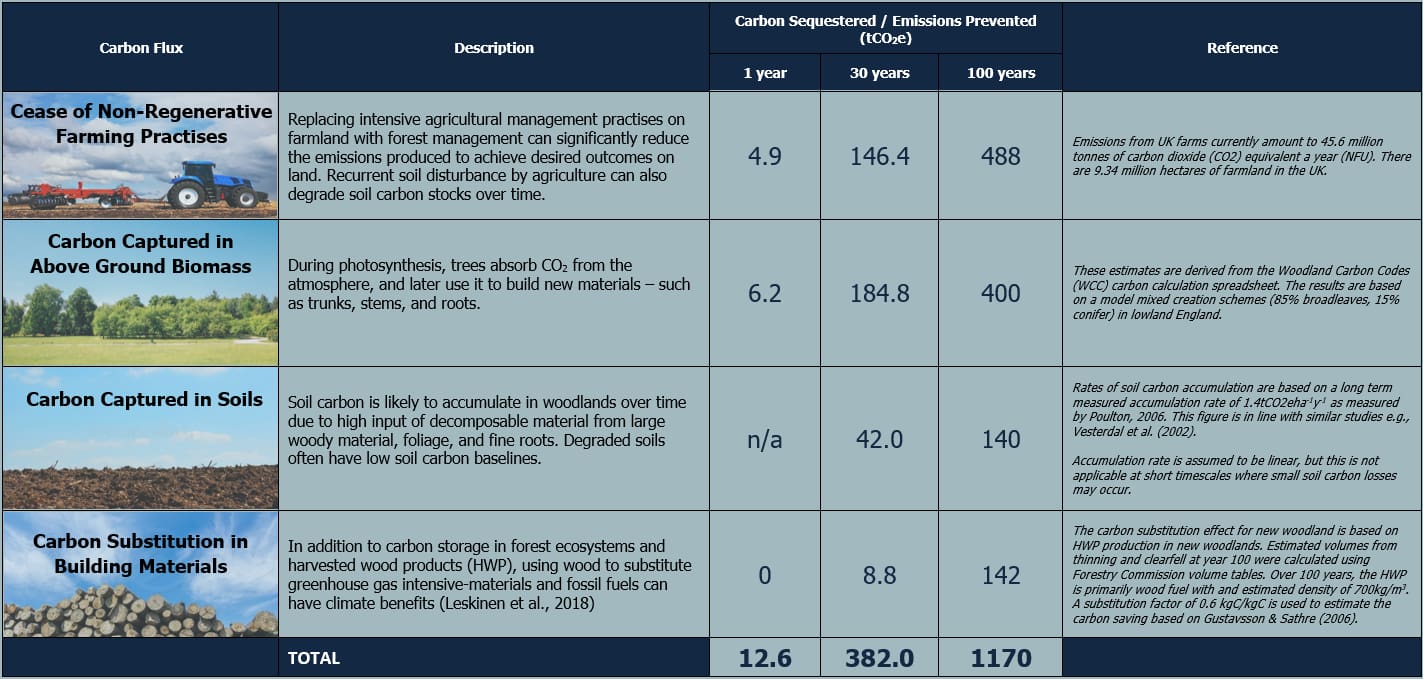 Reference List:
DEFRA (2012) Agriculture in the United Kingdom. Department of Environment, Food and Rural Affairs. Available at: https://assets.publishing.service.gov.uk/government/uploads/system/uploads/attachment_data/file/208436/auk-2012-25jun13.pdf (accessed 15/03/22)
Gustavsson, L. and Sathre, R. 2006. Variability in energy and carbon dioxide balances of wood and concrete building materials. Building and Environment 41(7): 940–951. https://doi.org/10.1016/j.buildenv.2005.04.008
Leskinen, P., Cardellini, G., González-García, S., Hurmekoski, E., Sathre, R., Seppälä, J., … & Verkerk, P. J. (2018). Substitution effects of wood-based products in climate change mitigation.
NFU (2019) Achieving Netz Zero: Farming's 2040 goal. Available at: https://www.nfuonline.com/archive?treeid=138313 (accessed 15/03/22)
Poulton, P.R., 2006. Rothamsted research: guide to the classical and other long-term experiments, datasets and sample archive. Lawes Agric. Trust Co., Harpenden, UK. Schiedung, H., Bornemann, L. and Gerhard, W.E.L.P., 2017. Seasonal variability of soil organic carbon fractions under arable land. Pedosphere, 27(2), pp.380-386.
Sathre, R. and Gustavsson, L. 2009. A state-of-the-art review of energy and climate effects of wood product substitution. Växjö University, Report No. 57