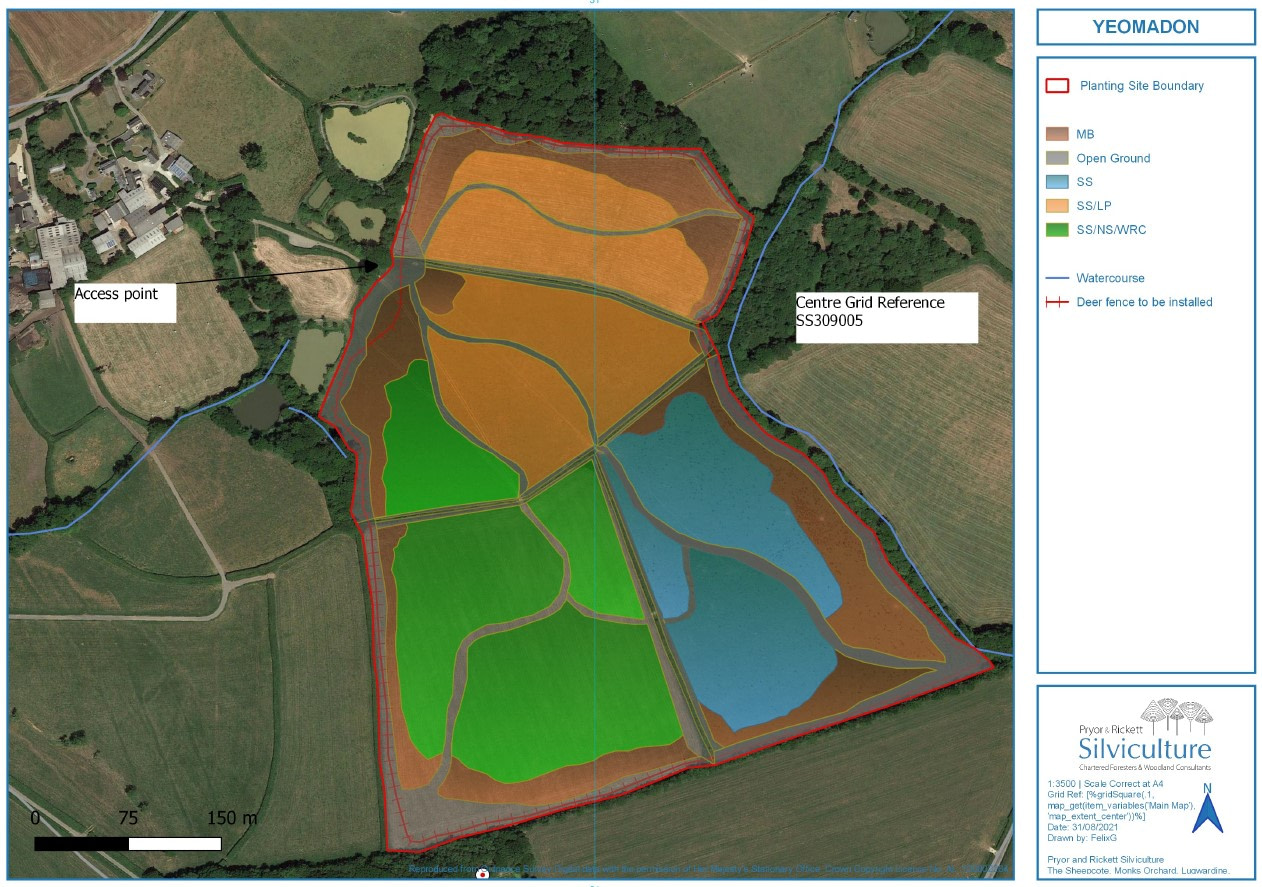 To be created by the afforestation of 4 pastoral fields, the woodland at Yeomadon is designed to convert an area of low habitat and production value into a diverse and sustainable mixed woodland. The core of the woodland area is to be comprised of commercial species including Sitka spruce, Norway spruce, lodgepole pine and western red cedar. This will contribute to providing a renewable and sustainable source of quality British timber, capturing atmospheric carbon dioxide and maximising the quantity of Co2 locked up in timber products long into the future. The conifer areas will be surrounded with a mix of native broadleaved species to maximise the biodiversity potential of the scheme. These areas will be retained and not clearfelled and connect to existing broadleaved woodland blocks, providing valuable connectivity and integrating the woodland into the wider landscape. The woodland will also contribute towards local forestry jobs as the trees are cared for during the planting, establishment and eventually harvesting stage of their life cycle.
The site owner's business includes a series of coarse fishing ponds, and these adjoin the scheme to the north. A sensitively designed broadleaved section will connect the core woodland area to the ponds, and provide an attractive backdrop to the site. Afforestation of the area as a whole is designed to assist the drainage of the site, slowing the rate of surface water flow and improving the quality of the local soils by reducing waterlogging.
The site will be protected from deer and rabbit damage by fencing, allowing the trees to be established as quickly and efficiently as possible, and maximising the future timber potential of the conifer areas. The various compartments of species will be connected by grass rides, which will run through the woodland and allow good management of the trees as they mature.
AREA: 18.35 ha
TREES TO BE PLANTED: 34,045
CARBON SEQUESTERED: up to 646 tonnes over 25 years
Each project undergoes comprehensive analysis and research. View this projects scoring sheets and additional information below…
Grown in Britain Scoring Sheet
Each project will be scored to ensure that it meets the FCF's high standards. The scoring sheet covers a wide range of tree planting projects and allows for projects with a wide range of objectives – from increasing biodiversity to creating a productive timber woodland.