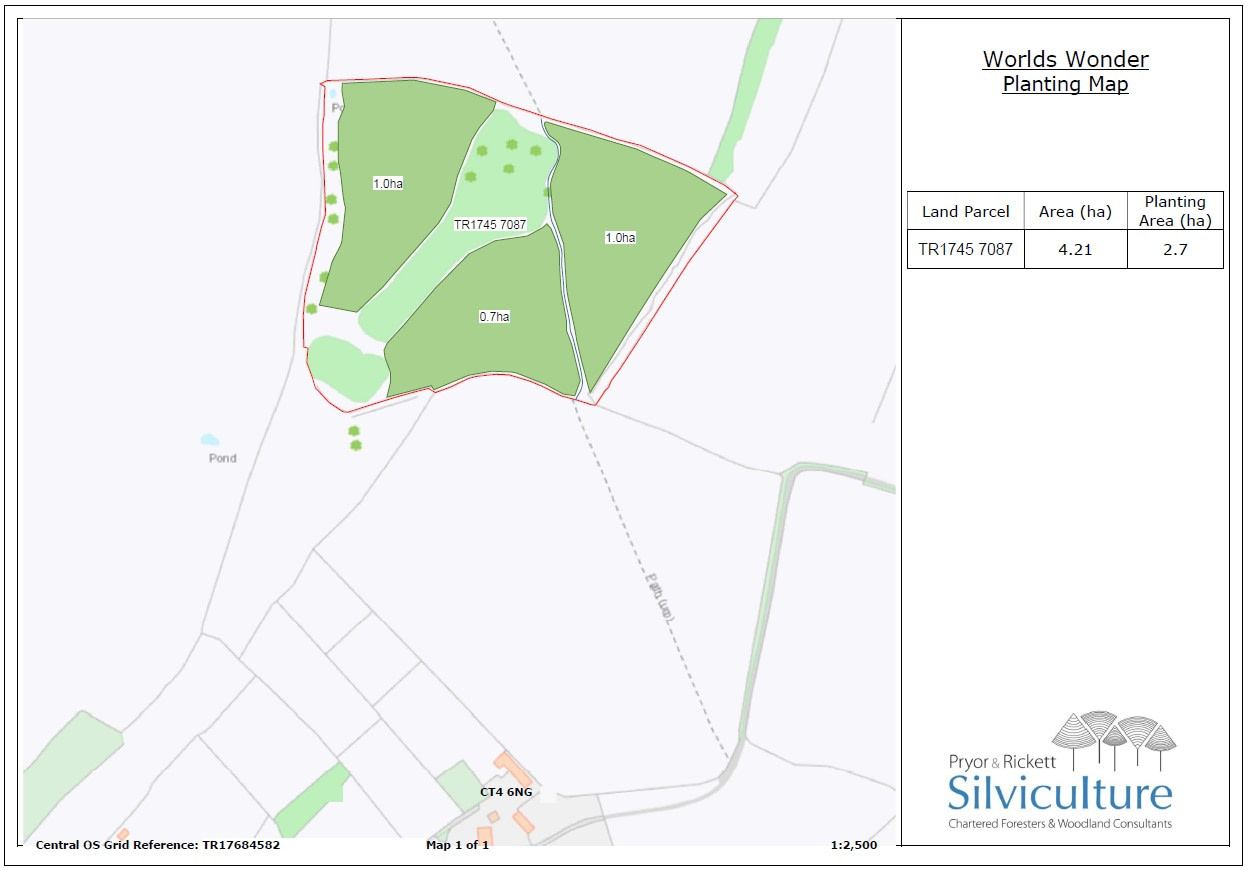 The planting area is currently rough grassland, grazed by sheep.
The planting will transform the degraded farmland into a native, mixed broadleaf copse that links into the surrounding habitats. The new copse will more than double the area of the existing woodland and further help to improve the local soil quality, as well as providing a new habitat for wildlife. By connecting the fragmented habitats, the planting has the potential to bolster the local landscape's resilience to threats such as climate change, as the habitat becomes bigger, better and more joined up. The woodland will also boost the delivery of localised ecosystem services. The trees will lock-up carbon as they grow, improve local water quality and water retention as their roots absorb and filter rainwater, increase the soil fertility as their leaves fall, adding to the organic matter, replenishing the lost soil quality.
The woodland will also be managed to provide a long-term sustainable supply of timber. Regular thinning of the trees will ensure the parents are constantly making way for their children, creating a diverse mix of tree species at varying ages. The ongoing management will also maintain the woodland's other habitats such as open glades and paths which are often wildlife hotspots as they can support a mix of both wooded and non-wood flora. Designed to have 3 separate compartments, divided by grassy paths with herbaceous edges; the new woodland will incorporate 10 different native trees species, all of which provide different wildlife benefits.
AREA: 2.7 ha
TREES TO BE PLANTED: 2700
CARBON SEQUESTERED: up to 250 tonnes over 25 years
Each project undergoes comprehensive analysis and research. View this projects scoring sheets and additional information below…
Grown in Britain Scoring Sheet
Each project will be scored to ensure that it meets the FCF's high standards. The scoring sheet covers a wide range of tree planting projects and allows for projects with a wide range of objectives – from increasing biodiversity to creating a productive timber woodland.