PRS001 BITTERLEY HYDE FARM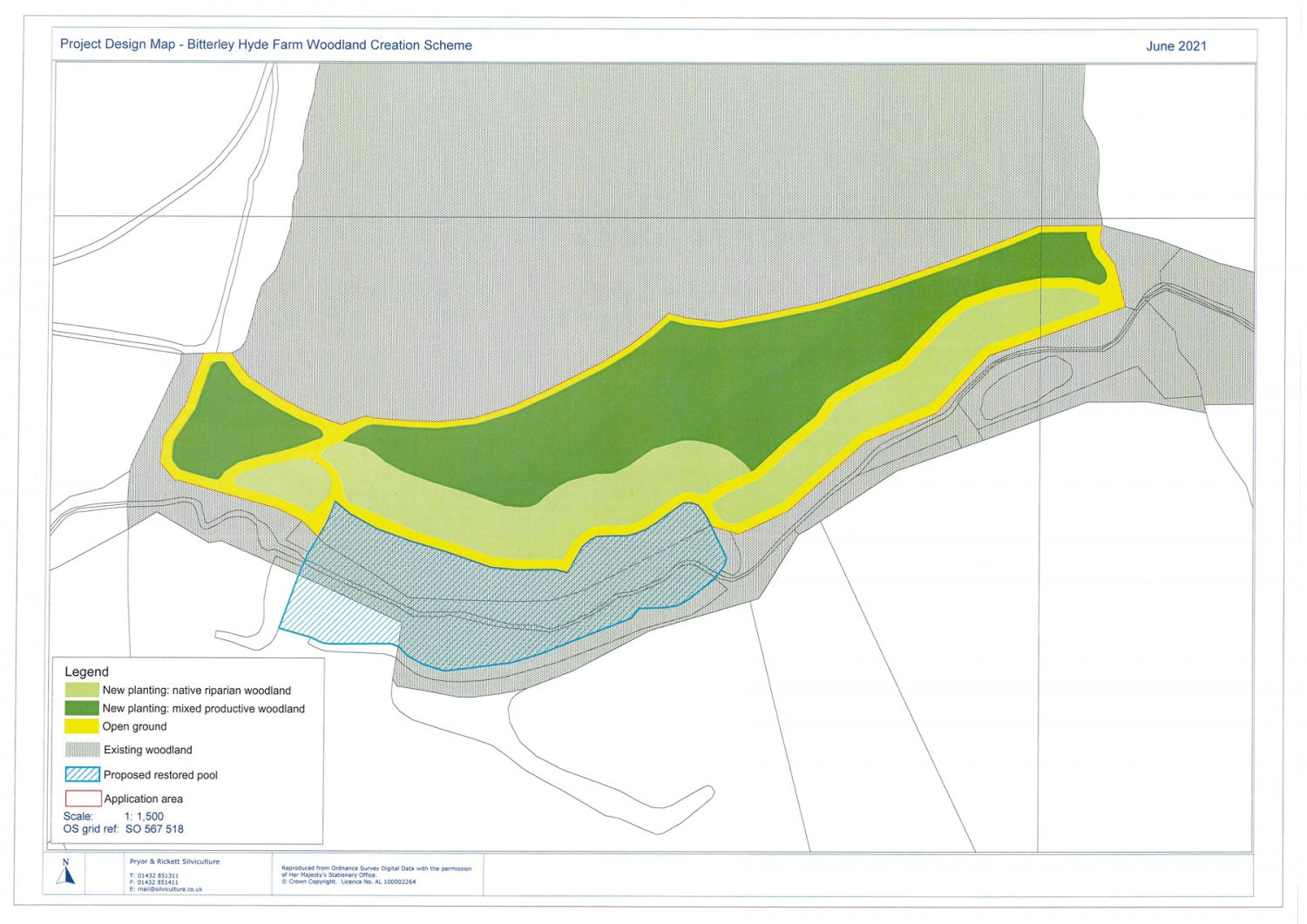 The scheme includes two main woodland types. Native riparian woodland has been planted within 30m of the watercourse and is purely native broadleaves suited to the site (common alder, hornbeam, sessile oak, black poplar, small-leaved lime and native woody shrubs). These have been established in small groups at 2.5m x 2.5m spacing to develop into mixed native woodland which can be restructured as necessary in the future through coppicing of the faster-growing species such as alder. Elsewhere the planting has been designed as productive mixed woodland with fast-growing broadleaves and conifers for timber production and to maximise carbon sequestration (Douglas fir, Norway spruce, western red cedar, grey alder and wild cherry). These have been established at closer spacing or 1.5m x 1.5m to maximise volume and early thinning yields and to maximise benefits for flood mitigation. Species have been established in larger groups of 300-500 trees to create mixed woodland that can be converted to uneven-aged continuous cover management in due course. Future resilience is an important design consideration and all species are rated 'suitable' or 'very suitable' under medium-high 2050 climate change scenarios, according to ESC-DSS. Grey squirrel damage is a major constraint on timber production and 83% of the species are resistant to damage (conifers, cherry, lime and alders).
AREA: 3.21 ha
TREES TO BE PLANTED: 8120
CARBON SEQUESTERED: 302 tonnes over 25 years
Each project undergoes comprehensive analysis and research. View this projects scoring sheets and additional information below…
Grown in Britain Scoring Sheet
Each project will be scored to ensure that it meets the FCF's high standards. The scoring sheet covers a wide range of tree planting projects and allows for projects with a wide range of objectives – from increasing biodiversity to creating a productive timber woodland.